Reuters
relays rumors from a South Korean newspaper which claimed that the next iPhone will have a larger display:
Apple has decided on the bigger 4.6-inch display for its next iPhone and started placing orders to its suppliers, the Maeil Business Newspaper said, quoting an unnamed industry source.
The 4.6-inch screen would be a lot larger than the previous rumors. There have been persistent rumors that the next generation iPhone would have a large 4" screen.
A 4.6-inch screen is even harder to believe, and would place the new iPhone amongst the latest screen sizes available on a smartphone. Here is the comparison shot between the 4.65" screen of the Galaxy Nexus and the iPhone 4S which has a 3.5" screen.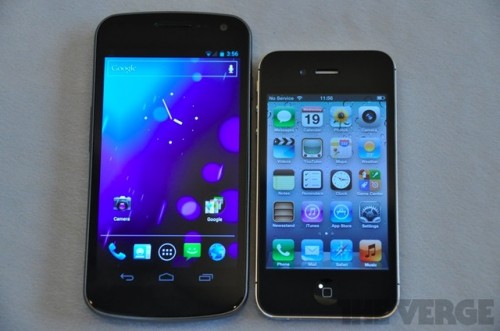 TheVerge Comparison between Galaxy Nexus (4.65") and iPhone 4S (3.5")
Still, its hard to dismiss the talk of a larger 4" iPhone screen completely. Back in November,
iLounge
first reported that the 3rd generation iPad would be approximately 0.7 mm thicker than the iPad 2. As it turns out, they were on the mark with the actual new iPad being 0.6 mm thicker than the previous design. The same source that provided that information had this to say about the next generation iPhone:
Our source says that the next-generation iPhone will not look like the teardrop-shaped version that was widely rumored for release in 2011. We've been told that the device will have a 4-inch display and will be 8mm longer than before, with a metal casing (probably aluminum). It is on track to be introduced in summer of 2012, and is still in the engineering phase, not early production. We suspect that poor battery life doomed the prior prototype version, and that this one is being built with LTE-ready battery drain in mind.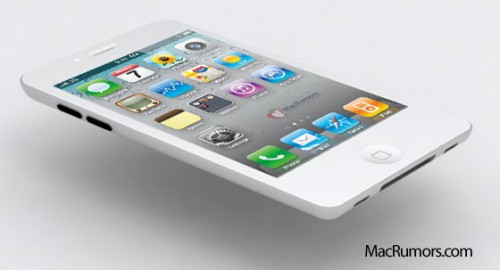 Macrumors' Previous "iPhone 5" mockup based on leaked case designs
You can follow me on
Twitter
, or like me on
Facebook
to keep yourself updated on all the latest news from Apple
(via Macrumors)