MacRumors has claimed to have one of the screens from iPad 3 production. They put it under the microscope and found out that it has 4 times the pixels as an iPad 2 or double horizontal and double the vertical.
Physically, the purported iPad 3 display is the same size as the current iPad 1 and iPad 2 display at 9.7" in diagonal, and looks quite similar to the naked eye.
Extrapolating out, the iPad 3 screen should carry a full resolution of 2048x1536, exactly twice the linear resolution of the iPad 1 and iPad 2 which is 1024x768. Such a screen should be able to display much sharper images as compared to the previous generation iPads.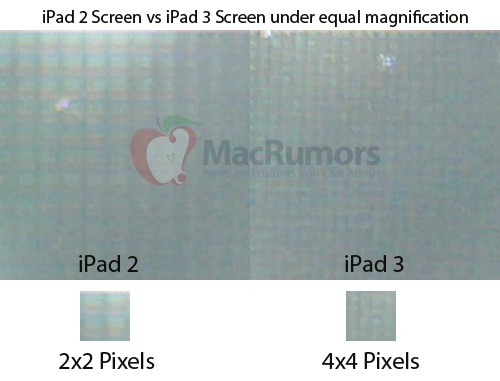 We are just a few weeks away from the anticipated March 7th iPad 3 launch. The device is rumored to be carrying this high-resolution display, a new A6 processor and 4G LTE support.
You can follow me on Twitter, or like me on Facebook to keep yourself updated on all the latest news from Apple.